Welcome to Roots' School of Theatre children's theatre for young performers in grades 3rd – 7th.  Our musical theatre productions are very special as we only accept 12 actors per production to ensure quality of instruction for each young actor.  All young performers are guaranteed a speaking role in the production as well as singing and dancing throughout the entire show.
Disney's Beauty and the Beast Jr.
January 2018 – April 2018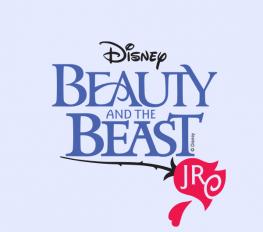 We are excited to announce we will be doing our first ever hour-long musical production! This is twice as long as what we typically do, so we will be offering rehearsals two times per week instead of just one for this show!
Based on the original Broadway production that ran for over thirteen years and was nominated for nine Tony Awards, and the Academy Award-winning motion picture, Disney's Beauty and the Beast JR. is a fantastic adaptation of the story of transformation and tolerance.  Disney's Beauty and the Beast JR. features some of the most popular songs ever written by Alan Menken and the late Howard Ashman, along with new songs by Mr. Menken and Tim Rice.
The classic story tells of Belle, a young woman in a provincial town, and the Beast, who is really a young prince trapped under the spell of an enchantress. If the Beast can learn to love and be loved, the curse will end and he will be transformed to his former self. But time is running out. If the Beast does not learn his lesson soon, he and his household will be doomed for all eternity.
Tuesdays & Thursdays 4:30-5:30 
TIME: 4:30-5:30
Grades 3-7
31 SESSIONS: Tuesdays & Thursdays

January: 9, 11, 16, 18, 23, 25, 30
February: 1, 6, 8, 13, 15, 22, 27
March: 1, 6, 8, 13, 15, 20, 22, 27
April: 10, 12, 17, 19, 24, 26
DRESS REHEARSAL: Friday April, 27 (4:00 – 6:00 PM)
POSSIBLE MAKEUP REHEARSAL (no charge): April 21 (12:00 PM – 2:00 PM)

3 PERFORMANCES:

Saturday April 28 (12:00 PM, 1:30 PM)
Sunday April 29 (12:00 PM)

TUITION: 4 Monthly Tuition Payments of $145.00 (29 Sessions $20/each)

The performances are free for this season only!

MAX: 12 Actors
Tuesdays & Thursdays 6:00-7:00 
TIME: 6:00-7:00
Grades 3-7
31 SESSIONS: Tuesdays & Thursdays

January: 9, 11, 16, 18, 23, 25, 30
February: 1, 6, 8, 13, 15, 22, 27
March: 1, 6, 8, 13, 15, 20, 22, 27
April: 10, 12, 17, 19, 24, 26
DRESS REHEARSAL: Friday April, 27 (6:30 – 8:30 PM)
POSSIBLE MAKEUP REHEARSAL (no charge): April 21 (2:00 PM – 4:00 PM)

3 PERFORMANCES:

Saturday April 28 (3:30 PM, 5:00 PM)
Sunday April 29 (2:00 PM)

TUITION: 4 Monthly Tuition Payments of $145.00 (29 Sessions $20/each)

The performances are free for this season only!

MAX: 12 Actors
Tuition Payments
Pay January Tuition Here
Pay February Tuition Here
Pay March Tuition Here
Pay April Tuition Here