Welcome to Roots' School of Theatre  children's theatre for young performers in grades kindergarten – 2nd.  This theatre acting class/production is designed for our early readers.  Our musical theatre productions are very special as we only accept 12 actors per production to ensure quality of instruction for each young actor.  All young performers are guaranteed a speaking role in the production as well as singing and dancing throughout the entire show.
"Seussical" Kids
January 2018 – May 2018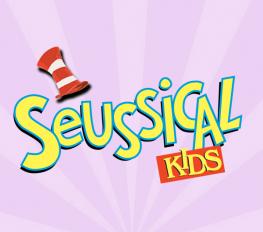 Horton the Elephant, the Cat in the Hat and all of your favorite Dr. Seuss characters spring to life onstage in Seussical KIDS, a fantastical musical extravaganza from Tony-winners, Lynn Ahrens and Stephen Flaherty (Lucky Stiff, My Favorite Year, Once on This Island, Ragtime).
Transporting audiences from the Jungle of Nool to the Circus McGurkus, the Cat in the Hat, our narrator, tells the story of Horton, an elephant who discovers a speck of dust containing tiny people called the Whos, including Jojo, a Who child, who gets in trouble for thinking too many "thinks." Horton's challenge is twofold – not only must he protect the Whos from a world of naysayers and dangers, but he must also guard an abandoned egg that's been left in his care by the irresponsible Mayzie La Bird. Although Horton faces ridicule, danger, kidnapping and a trial, the intrepid Gertrude McFuzz never loses faith in him. Ultimately, the powers of friendship, loyalty, family and community are challenged and emerge triumphant!
Monday: Seussical KIDS 
TIME 6:00-7:00 PM
GRADES K – 2nd
17 SESSIONS: Monday

January: 8, 22 & 29
February: 5, 12 & 26
March: 5, 12, 19 & 26
April: 9, 16, 23 & 30
May: 7
POSSIBLE MAKEUP REHEARSAL (no charge): May 5 (12:00 PM – 2:00 PM)
DRESS REHEARSAL: May 11 (4:30 – 6:00 PM)

2 PERFORMANCES: Saturday May 12 (12:00 PM, 1:00 PM)
MATERIALS FEE: $40.00 (NON-REFUNDABLE DEPOSIT)
TUITION: 5 Monthly Tuition Payments of $85.00 (17 Sessions at $25/each)
MAX: 12 Actors
Wednesday: Seussical KIDS 
TIME 6:00-7:00 PM
GRADES K – 2nd
17 SESSIONS: Wednesday

January: 10, 17, 24, & 31
February: 7, 14, & 28
March: 7, 14, & 21
April: 11, 18, & 25
May: 2, & 9
POSSIBLE MAKEUP REHEARSAL (no charge): May 5 (2:00 PM – 4:00 PM)
DRESS REHEARSAL: May 11 (6:30 – 8:00 PM)

2 PERFORMANCES: Saturday May 12 (3:00 PM, 4:00 PM)
MATERIALS FEE: $40.00 (NON-REFUNDABLE DEPOSIT)
TUITION: 5 Monthly Tuition Payments of $85.00 (17 Sessions at $25/each)
MAX: 12 Actors
Tuition Payments:
Pay January Tuition Here
Pay February Tuition Here
Pay March Tuition Here
Pay April Tuition Here
Pay May Tuition Here