Welcome to Roots' School of Theatre children's theatre for young performers in grades 3rd – 8th. Our musical theatre productions are very special as we only accept 20 or fewer actors per production (depending on the show) to ensure quality of instruction and experience for each young actor.  All young performers are guaranteed a speaking role in the production as well as singing and dancing throughout the entire show.
Shrek Jr.
August  2021 – December 2021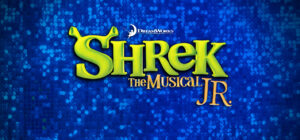 By: Jeanine Tesori, and David Lindsay-Abaire
Once upon a time, in a far away swamp, there lived an ogre named Shrek.  One day, Shrek finds his swamp invaded by banished fairytale misfits who have been cast off by Lord Farquaad, a tiny terror with big ambitions. When Shrek sets off with a wisecracking donkey to confront Farquaad, he's handed a task — if he rescues feisty princess Fiona, his swamp will be righted. Shrek tries to win Fiona's love and vanquish Lord Farquaad, but a fairytale wouldn't be complete without a few twists and turns along the way.
---
Cast 1
TIME:

Mondays 6:30 – 7:30
Wednesdays 6:30 – 8:00

Grades 3rd – 8th
33 Total SESSIONS: Mondays & Wednesdays

PARENT MEETING/FIRST REHEARSAL: Monday August 9 (6:30 – 7:30 PM)
August: 11, 16, 18, 23, 25, 30
September: 1, 8, 13, 15, 20, 22, 27, 29
October: 4, 6, 11, 13, 25, 27
November: 1, 3, 8, 10, 15, 17, 22, 29
December: 1
DRESS REHEARSAL: Friday December 3 (4:00 – 8:00 PM)
3 PERFORMANCES: :

Saturday December 4 (10:00 AM, 11:30 AM)
Sunday December 5 (12:00 PM)

MAKEUP REHEARSAL: Saturday November 20 (12:00 – 2:00 PM)

FULL SEMESTER PRICE $785

TUITION: $596 (August's tuition is included with registration)

4 Monthly Tuition Payments of $149.00

(15 Hour Sessions $20/each)
(15 Hour and a Half+ Sessions $25/each)
(1 Dress Rehearsal Session $20)
(2 Performance Day Session $25)

REGISTRATION FEE $189.00 (NON-REFUNDABLE AFTER August 10th) This Includes:

Your August Tuition: $149.00
Materials/Administration: $40.00 (NON-REFUNDABLE)

MAX: 17 Actors
---
Cast 2
TIME:

Tuesdays 4:30 – 5:30 PM
 Thursdays 4:30 – 6:00 PM

GRADES: 3rd – 8th
33 TOTAL SESSIONS: Tuesdays & Thursdays

PARENT MEETING/FIRST REHEARSAL: Tuesday August 10 (4:30 – 5:30 PM)
August: 12, 17, 19, 24, 26, 31
September: 2, 7, 9, 14, 16, 21, 23, 28, 30
October: 5, 7, 12, 14, 26, 28
November: 2, 4, 9, 11, 16, 18, 30
Dec: 2
DRESS REHEARSAL: Friday December 3 (4:00 – 8:00 PM)
3 PERFORMANCES: :

Saturday December 4 (2:00 PM, 3:30 PM)
Sunday December 5 (2:30 PM)

MAKEUP REHEARSAL: Saturday November 20 (2:00 – 4:00 PM)

FULL SEMESTER PRICE $785

TUITION: $596 (August's tuition is included with registration)

4 Monthly Tuition Payments of $149.00

(15 Hour Sessions $20/each)
(15 Hour and a Half+ Sessions $25/each)
(1 Dress Rehearsal Session $20)
(2 Performance Day Session $25)

REGISTRATION FEE $189.00 (NON-REFUNDABLE AFTER August 10th) This Includes:

Your August Tuition: $149.00
Materials/Administration: $40.00 (NON-REFUNDABLE)

MAX: 17 Actors
---
Cast 3 
TIME:

Tuesdays 6:30 – 7:30 PM
 Thursdays 6:30 – 8:00 PM

GRADES: 3rd – 8th
33 TOTAL SESSIONS: Tuesdays & Thursdays

PARENT MEETING/FIRST REHEARSAL: Tuesday August 10 (6:30 – 7:30 PM)
August: 12, 17, 19, 24, 26, 31
September: 2, 7, 9, 14, 16, 21, 23, 28, 30
October: 5, 7, 12, 14, 26, 28
November: 2, 4, 9, 11, 16, 18, 30
December: 2
DRESS REHEARSAL: Friday December 3 (4:00 – 8:00 PM)
3 PERFORMANCES: :

Saturday December 4 (6:00 PM, 7:30 PM)
Sunday December 5 (5:00 PM)

MAKEUP REHEARSAL: Saturday November 20 (4:00 – 6:00 PM)

FULL SEMESTER PRICE $785

TUITION: $596 (August's tuition is included with registration)

4 Monthly Tuition Payments of $149.00

(15 Hour Sessions $20/each)
(15 Hour and a Half+ Sessions $25/each)
(1 Dress Rehearsal Session $20)
(2 Performance Day Session $25)

REGISTRATION FEE $189.00 (NON-REFUNDABLE AFTER August 10th) This Includes:

Your August Tuition: $149.00
Materials/Administration: $40.00 (NON-REFUNDABLE)

MAX: 17 Actors
---
Tuition Payments