This engaging class will give your young playwright the tools to write their own plays! Building a scene, creating characters, and other foundational skills will be covered with the students. At the end of the course, families will get the chance to view some of their work in the showcase performance!
Class Details: 
TIME: 5:00 – 6:30
GRADES: 6 – 12
7 SESSIONS: Mondays & Tuesdays

April: 24, 25
May: 1, 2, 8, 9, 15

SHOWCASE PERFORMANCE: Monday May 15th
FULL SEMESTER PRICE $200.00

TUITION: 2 Monthly Tuition Payments of $87.00
REGISTRATION FEE $113.00 DEPOSIT

April Tuition: $87.00 (NON-REFUNDABLE AFTER April 24th)
Materials/Administration: $26.00 (NON-REFUNDABLE)

MAX: 12 Playwrights
The fee and form both need to be completed to register!
10 Spots Left!
---
Class taught by Elisabeth Speckman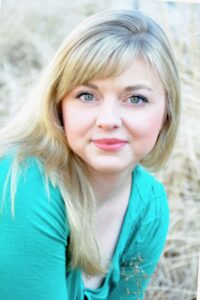 Elisabeth Speckman is a playwright, actor, and director from Indianapolis. She received her BA in Theatre and English-Creative Writing from Denison University and her MFA from Butler University. She has served as both a visiting instructor and adjunct at Butler in first-year studies, intro to creative writing, academic writing, media studies, and screenwriting, as well as teaching Acting II at IUPUI. Her acting training includes the Yale Summer Conservatory for Actors, Second City Training Center Chicago, and the Michael Chekhov School. She has appeared in numerous productions in the Indianapolis area with Booth Tarkington Civic Theatre, IndyFringe, Bard Fest, Carmel Community Players, Spotlight Players, and Amalgamated Stage Productions, and won the 2015 Best Major Supporting Actress Award from the Encore Association. She has taught and directed for over ten years, working with The Artists Studio, Fishers UMC, and CYT Indy, where she most recently directed Aladdin, Jr. and The Lion King, Jr. As a playwright, her work has been produced throughout the United States and internationally, and her play Holmes Jr. High was commissioned and had its premiere here at Roots' in Spring 2022. She was a finalist for the 2021 Henley Rose Award for Women Playwrights; other honors include attending the Kennedy Center Summer Playwriting Intensive and serving as a reader on the national committee for the Bay Area Playwrights Festival. Her proudest accomplishment, however, is being a mother to her two sons.