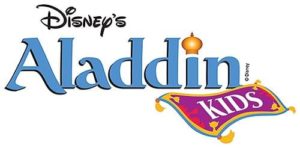 When the street urchin, Aladdin, vies for the attention of the beautiful princess, Jasmine, he uses a genie's magic power to become a prince in order to marry her.  Iago, Jafar, the Genie, and more are here in Disney's Aladdin KIDS, a musical adventure filled with magic, mayhem and the power of love. Specific to Disney's Aladdin KIDS are the Djinn, a group of unique stage magicians who execute the magical moments of the show. Casting many Djinn to create the Genie's magic allows you to involve more young performers.
1st – 9th Grade
Monday – Friday: 9:00 am – 5:00 pm
Performances on Friday:  6:00 pm and 7:00pm
All actors will be given their audition materials for the show prior to the camp beginning.  First morning of camp we hold auditions for the 16 characters in the show, and then rehearsing begins. We take a morning and afternoon snack break and a lunch break daily (all food is provided by you.)  On Friday we will stop rehearsing at about 4:30pm to get into costume and put on any required makeup. Costumes will be provided. the basic under layer is all you will need to bring.
Only 16 actors will be accepted per show!
Scripts and CD's will be given on the first day
Auditions for all parts will be conducted on the first day of camp
Every actor will have a part in the show
Bring a healthy, easy to eat morning and afternoon snack
Bring a healthy easy to eat lunch
Bring a mask
Wear comfortable clothes (no flip flops please)
Total Tuition
: $295
Week of Instruction: $255 
Materials/Administration Fee:  $40 (Non Refundable)
Camp Weeks: 
YOU MUST BOTH PAY THE TUITION, AND FILL OUT A FORM TO ENROLL!
June 13-17,

Performances

Friday, June 17 @ 6:00pm & 7:00pm:
June 20-24, Performances Friday, June 24 @ 6:00pm & 7:00pm: 
June 27-July 1, Performances Friday, July 1 @ 6:00pm & 7:00pm: 
or
July 11-15, Performances Friday, July 15 @ 6:00pm & 7:00pm:  
July 18-22, Performances Friday, July 22 @ 6:00pm & 7:00pm:
July 25-29, Performances Friday, July 29 @ 6:00pm & 7:00pm: 
Please email us at rootsschooloftheatre@gmail.com to ask to be placed on our waiting list for any of the weeks.
---